Remote Thought Leader Marketing Video Production Service
Easily create marketing videos that grow your audience and help secure a thought leadership position in your industry.
Marketing strategies demand more content than ever to keep audiences engaged.
Remote Directed Video (RDV) makes it easy to produce video content at scale with minimal impact on staff.
Pro-grade remote video capture and our team of marketers, directors and editors make producing thought leadership videos convenient and cost-effective.
Strategy & Planning
Work with our experts to define what videos you need and how you'll use them. We'll help you select a look and feel for your videos, determine the content of each video, and develop a plan for producing your videos.
Directed Remote Video Capture
RDV's remote video technology captures stunning footage (up to 4K) with just an iPhone or webcam, with no loss of quality to streaming. A Live Director is on every "video shoot" to make your subject feel at ease and look their best, so they can deliver an effective video.
Video Editing & Review
Our editors turn the footage into rough cuts of your videos, based on your specifications, within 7 business days. They're then uploaded to our video collaboration platform, where you can easily request changes with precision.
Remote Directed Videos are produced by marketers. Learn more about how we deliver effective marketing videos – quickly and cost-effectively.
Capturing Subject Matter Experts on video with RDV
1. Schedule a Recording Session
Start by scheduling a remote video capture session with our convenient online scheduling tool. We'll even coordinate with and prepare staff, customers and other spokespeople.
2. Connect with a Live Director
Your subject matter expert connects with a Live Director, using their iPhone or webcam. The director can then adjust camera settings, help subjects hit their talking points (script or interview), and make them look their best.
3. Our Team Edits Your Videos
Footage is delivered to our editors in its native resolution (up to 4K). Our editors upload rough cuts in 7 days to our video collaboration platform, where you can easily request edits.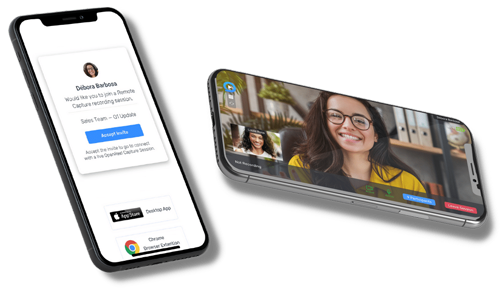 "In a marketing video, you have to deliver your message through other people. I can tell Thoughtcast Media what I need out of a video, and they can get subject matter experts, customers, and thought leaders to say the things that correlate with that message."
Jake Fabbri, CMO @ Fonteva
How is Remote Directed Video Different from Other Forms of Video Production?
Video production has traditionally required large upfront investment, and going solo is often more hassle than it's worth. Remote Directed Video is a better way to produce video content that takes the cost and complexity out of getting results with video.
Compared to Traditional Productions
Compared to Solo/Streaming Productions
Safe and Fast Without Sacrifice
RDV is recorded remotely and totally safe without having to sacrifice production or content quality.
Fast and Convenient
RDV makes it easy to turn an idea into an audience-ready video, in as little as 7 days from time of recording.
Totally Turnkey
Our team of marketers, producers, directors and editors handle your project from start to finish, minimizing impact on staff.
Affordable and Flexible
Everything you need is bundled into convenient fixed-price packages, or you can design a custom project.
High-Quality, Effective Video
There's no loss of quality to streaming, and a Live Director ensures you always get an effective video.
Professional Direction
Live Directors coach subjects and tweak their cameras to ensure they sound and look great, and hit their talking points.
Made To Your Specifications
Our marketers, directors and editors will help you turn your vision into a reality, with included revisions to get it just right.
Why Use Remote Directed Video Production for Your Next Video Project?
Having produced hundreds of marketing videos with businesses around the world, and as lifelong marketers ourselves, we can help you use RDV to get meaningful business results.
Create Video Content at Scale with Minimal Impact on Staff
RDV is a compete, turnkey video production service. We've taken the guesswork and physical barriers out of the video production process to make creating content convenient and cost-effective – dramatically increasing the speed, ease and quality of new video content you can publish.
We do this at a fraction of the cost of traditional productions and are 100% transparent with our pricing. See pricing details.
Professional Video with Just an iPhone or Webcam – Plus our Video Experts
Remote Directed Video uses HD remote capture technology to record video on the subject's device in its native resolution (up to 4K), with no loss of video quality due to streaming (like Zoom or Skype) – with a Live Director to ensure you get the best video possible.
Our video editors then turn the footage into a marketing-effective video, made to your specifications, all for one flat rate.
Creating Professional and Effective Videos is Easier with a Live Director
After scheduling a convenient time to record, your subject will join with a Live Director that will tweak the subject's camera settings and work with them to ensure that they feel and look their best.
Whether by script or interview, the Live Director helps your subject deliver key messaging points, and captures the professional footage needed for our editing team to produce an effective video. Learn how RDV works.
Fully Turnkey Remote Thought Leader Marketing Video Production
Having produced hundreds of remotely recorded videos for our customers, we've assembled all the necessary components of a successful thought leadership marketing video into one convenient and cost-effective package.
Strategy & Planning
Maximize the effectiveness of your marketing video.
Remote Video Capture
Remote recording session with a Live Director.
Video Editing & Review
Professional editing and multiple rounds of review.
Subject Coordination
We'll handle all scheduling and coaching of your spokespeople.
Video Gear Kits
We'll ship your subjects a tripod and lavaliere microphone.
Captions & Transcripts
Captions and transcripts for accessibility, SEO and social media.
Schedule a Consultation
Get in touch with a video expert to talk strategy, design an RDV production package that fits your needs and budget, and get a firm quote.
RDV is a Trusted Solution for These Brands




Frequently Asked Questions