Remote Marketing Video Production Service
Remove the costs, complexities and physical barriers of producing
video marketing content.
Remote Directed Video makes it easy to create the video content you need to fuel your marketing campaigns – on time and on budget – with people around the world.
Video has traditionally been impractical for many marketing projects due to complexity and cost.
Remote Directed Video makes it easy to produce video marketing content at scale.
Pro-grade remote video capture combined with our team of marketers, directors and editors make producing marketing videos easy, with minimal impact on staff resources.
"Our client testimonials and customer success stories have always been an important part of our marketing campaigns. When COVID hit […] the remote videos that Thoughtcast Media provides really allowed us to continue building content in a safe way."
Producing Marketing Videos with Remote Directed Video (RDV)
1. Schedule a Recording Session
Set up a convenient time for your RDV session using our online scheduling tool.
2. Connect with a Live Director
Connect with a remote director via mobile device or webcam, who can make your subject look their best.
3. Our Team Edits Your Videos
A rough cut of your video will be uploaded for you to review within 5 business days.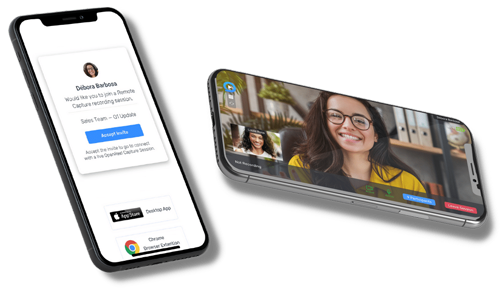 "In a marketing video, you have to deliver your message through other people. I can tell Thoughtcast Media what I need out of a video, and they can get subject matter experts, customers, and thought leaders to say the things that correlate with that message."
Jake Fabbri, CMO, Togetherwork
Remote Directed Videos are produced by marketers.
Learn more about how we deliver professional and effective marketing videos – quickly and cost-effectively.
Thought Leadership Video Production
Thought Leadership Videos are great for sharing industry insights, answering market questions, demonstrating expertise, and connecting with your audience in a more meaningful way.
With the ability to conveniently record subject matter experts around the world with a Live Director, RDV makes it easy to create videos that establish your brand as an influencer in the industry.
"We've used Thoughtcast Media very successfully to produce thought leader videos in support of two new products. Their videos have helped to add value to our brand. Working with Thoughtcast Media is educational, inspirational, valuable and just plain fun."
Sonja Hutton, Core Partners
Testimonial Video Production
Testimonial Videos are one of the most powerful assets a marketer or salesperson can have, with their incredible density of social proof and ability to convert prospects into customer.
With RDV you can capture testimonial videos from customers around the world, with a Live Director to keep your customers at ease, help them deliver their best performance, and enforce standards for your video testimonials.
"Having the access to the remote videos that Thoughtcast Media provides really allowed us to continue building that [testimonial video] content, but in a safe way."
Patrick Dorsey, EVP Marketing, Impexium
How-to and Training Videos are an effective way demonstrate your expertise inyour field, while teaching your prospects and customers in a more engaging way (video's been proven to improve content retention!)
With RDV you can focus on educating your audience, while a Live Director is there to ensure you're conveying your information clearly, and can work with editors to quickly turn your instructions into an audience-ready video.
"The process Thoughtcast Media follows is exceptional! From conception to execution, it all makes sense and results in marketing videos that really work for our firm."
Carl Sumter, Savor Strategies
Other Marketing Videos Produced with Remote Directed Video Production
Social Media Videos
Product & Software Demos
Email & Sales Videos
Culture & Brand Videos
Announcements
Content Marketing
Professional Marketing Videos without All the Professional Overhead
You'll be pleasantly surprised by the production quality of marketing videos produced with RDV! With just a mobile device or webcam, we can capture video footage for your marketing videos that rivals the quality of professional videography gear.
Learn more about how RDV works and why it's superior to other remote video production methods.
Save Now and Produce Your Marketing Videos Over the Next Year
You can save more when you produce more marketing video with Remote Directed Video, and you can always be ready to jump on opportunities to enhance your marketing campaigns with video when the opportunity strikes!
Contact us to get started on some videos for you today, and take up to a full 12 months to produce the rest.
Everything You Need to Create Marketing Videos in a Convenient Package
Pay only for what you need with fixed-price packages that strip out all the unnecessary costs of producing marketing videos.
Watch this video to learn how the many parts of Remote Directed Video production process come together to produce effective marketing videos for your business– quickly, easily and cost-effectively. Click for video production pricing.
How is RDV Different from Other Methods of Producing Marketing Videos?
Video production has traditionally required large upfront investment, and trying to record videos by yourself is often more hassle than it's worth. Remote Directed Video is a better way to produce video content with help from video marketing experts.
Compared to On-Location Productions
Compared to Solo/Streaming Productions
Safe and Fast Without Sacrifice
RDV is recorded remotely and totally safe without having to sacrifice the quality or content of your videos.
Fast and Convenient
RDV makes it easy to turn an idea into an marketing-ready video, within 7 days from the time of your recording session.
A Start-to-Finish Solution
Our team of marketers, directors and editors handle your project from start to finish, with minimal impact on your staff.
Affordable and Flexible
Everything you need to create effective marketing videos is available in fixed-price packages, or build a custom project.
Professional & Effective Video
There's no loss of video quality to streaming, and a Live Director ensures you always get an effective marketing video.
Professional Direction
Live Directors assist your subjects and tweak their cameras to ensure they sound and look their best, and feel comfortable on video.
Made To Your Specifications
Our marketers, directors and editors will help you turn your vision into a reality, with included rounds of editing to get it just right.
A Fully Turnkey Marketing Video Production Service
Having produced hundreds of remotely-captured videos for our customers, we've assembled all the necessary components of a successful marketing video into one convenient and cost-effective package.
Strategy & Planning
Maximize the effectiveness of your marketing video.
Remote Video Capture
Remote recording session with a Live Director.
Video Editing & Review
Professional editing and multiple rounds of review.
Subject Coordination
We'll handle all scheduling and prep of your video subjects.
Video Gear Kits
We'll ship your subjects a tripod and lavaliere microphone.
Captions & Transcripts
Captions and transcripts for accessibility, SEO and social.
Schedule a Consultation
Get in touch with a video expert to talk strategy, design an RDV production package that fits your needs and budget, and get a firm quote.
RDV is a Trusted Solution for These Brands




How Some Businesses use RDV to Produce Video Content – Quickly and Cost-Effectively
Check out these case studies from Remote Directed Video customers and see how easy it is to record and edit marketing videos for your business with RDV.
Impexium Safely Expanded Their Library of Video Testimonials in 2020
ASAE Added Value for First Virtual Annual Meeting Event Partners
Remote Marketing Video Solutions for Your Business
Video Marketing Production Services FAQ
We Make It Easy to Buy Marketing Video Production Services
While video marketing becomes more accessible to more businesses due to dropping costs, the complexities of working with remote teams and outside subjects can make video marketing production expensive, with hidden production costs and delays.
Fixed-priced Remote Directed Video packages are all-inclusive, with no hidden costs. Get the exact number of marketing videos you ordered, at the price you were quoted, so you can get the video marketing content you need, on time and on budget.
We've streamlined the video marketing production process to make it as fast and convenient as possible, without sacrificing production quality or marketing effectiveness.