Remote Video Production Services
Corporate video production service that is
convenient and cost-effective.
Produce professional videos with subjects around the world using just a smartphone, tablet or webcam – plus the support of our video experts.
What is Remote Directed Video (RDV) Production?
RDV eliminates the complexity and overhead of producing videos for your business, by giving you everything you need to produce professional videos in a convenient fixed-price package. See what's included.
Our Remote Video Content Production Service is a Perfect Fit for These videos
RDV makes capturing customer testimonial safe and convenient – for both you and your customers.
RDV is a fast, easy and scalable way to produce the video content you need to fuel your marketing campaigns.
RDV creates new opportunities to promote your event and add value for sponsors and exhibitors.
Remote Video Production Can Also Be Used for…
Thought Leadership
Social Media
Video Ads
Email & Sales Videos
Culture & Brand Videos
Product Reviews & Demos
Announcements
Event Promotion
Content Marketing
Why Businesses Prefer Remote Video Production
Producing videos the old-fashioned way is often too complicated and time-consuming to do cost-effectively. RDV is a remote video production solution that takes the cost and complexity out of producing videos for your business.
Fast and Easy Without Sacrifice
A remote vide production solution that makes producing business videos fast and easy, without sacrificing production or content quality.
Remote Videography & Editing
Enlist the help of our remote directors and remote capture software to record professional footage, and save even more with our all-inclusive capture + editing packages.
Minimize Impact on Staff Resources
Our team of marketers, producers, directors and editors take the complexity out of producing videos for your business, so you can do more of what you do best.
Having the access to the remote videos that Thoughtcast Media provides really allowed us to continue building that content, but in a safe way…
Patrick Dorsey, EVP Marketing, Impexium
How Remote Video Production Works
1. Schedule a Recording Session
Start by setting a convenient time to record with our scheduling tool. We'll even help you coordinate and prepare staff, customers and other spokespeople.
2. Connect with a Live Director
Subjects connect their smartphone or webcam with a director that adjusts the camera settings, helps subjects hit their talking points and make them look great!
3. Footage is Edited into a Final Video
Receive a rough cut of your video in just 5 business days, and request additional changes via our video collaboration platform.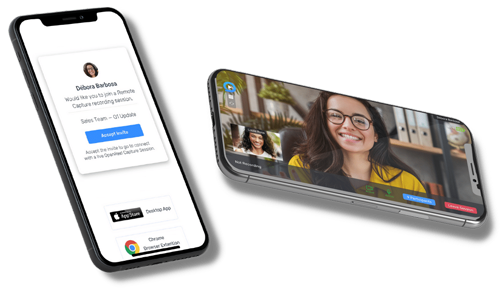 Get amazing video footage – from anywhere – with help from a Live Director
How Some Businesses Are using Our Remote Video Production Service
Check out these case studies from Remote Directed Video customers and see what our remote videography and editing solution is capable of.
Impexium Safely Expanded Their Library of Video Testimonials in 2020
ASAE Added Value for First Virtual Annual Meeting Event Partners




Included in Every Fixed-Price Remote Production Package
All-inclusive Remote Directed Video packages include everything you need to produce effective videos for your business – from strategy to editing. Remote capture-only packages are also available.
Strategy & Planning
Access to Video Marketing Experts
Production Strategy
Editorial Guidance
Style Selection
Video Assets Sourcing
Remote Video Capture
Easy Session Scheduling
Subject Prep and Coaching
Expert Live Direction
Optional Teleprompter
Up to 4K Resolution
Record in 125+ Countries
Editing & Review
Storyline, Video and Audio Editing
Opening /Closing Logo Sequences
Royalty-free Soundtrack
3 Rounds of Editing & Review
Inclusion of Client-provided Images, Video Clips or Animations
5-Day Editing Guarantee
We will deliver a first cut of your video for you to review within 5 business days from the time of recording. Subsequent revisions based on your review typically turnaround within 3 business days.
Schedule a Consultation
Get in touch with a video expert to talk strategy, design a Remote Directed Video package that fits your needs and budget, and get a firm quote.
RDV is a Trusted Solution for These Brands




How much does it cost to produce videos with RDV?
Remote Directed Video is a scalable and flexible remote video solution. You can customize a production package that meets your needs and budget, and the more videos you produce – the more you save!
Frequently Asked Questions