How Remote Video Production Works
Easily create videos for your business
with people around the world.
Remote Directed Video (RDV) is a turnkey video production solution that takes the complexity out of producing videos for your business.
Our team of marketers, producers, directors and editors
make creating video content convenient and cost-effective.
Remote Directed Video takes the cost and complexity out of creating videos for your business.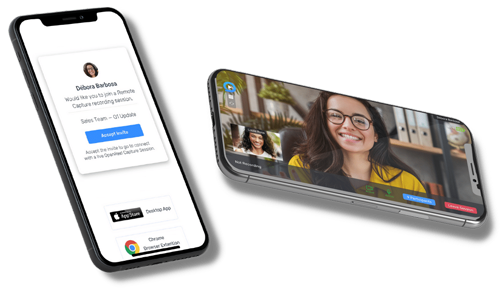 Recording Videos with RDV
1. Schedule a Recording Session
Start by setting a convenient time to record with our scheduling tool. We'll even help you coordinate and prepare staff, customers and other spokespeople.
2. Connect with a Live Director
Subjects connect their smartphone or webcam with a director that can adjust camera settings, help subjects hit their talking points, and make sure they look and sound great.
3. Footage is Edited into a Final Video
The video is delivered to our editors in its native resolution (up to 4K). Our editors upload rough cuts in 7 days, and you can request changes via our video collaboration platform.
Pro-grade remote video capture is just part of our turnkey solution
See How Business are Using RDV
Impexium Safely Expanded Their Library of Video Testimonials in 2020
ASAE Added Value for First Virtual Annual Meeting Event Partners
RDV is a Trusted Solution for These Brands




The
Remote Directed Video

Production Process

Creating videos with film crews and expensive gear is complicated, and doing it alone is frustrating and time-consuming. RDV eliminates the complexity and physical barriers of creating professional video, so you can create videos faster and easier.
Work with our video marketing experts to figure out what videos you need and how to use them to accomplish your business objectives, so we can set standards for what they should look like and what content they'll contain.
Following a formal methodology, we'll help you refine a strategy for producing and deploying your videos for maximum effect.
2. Remote Video Capture
The subject of your video logs in to a recording session with a Live Director via an smartphone or web browser (with webcam).
A Remote director with the ability to tweak camera settings remotely will be there to assist on the video shoot, to help your subject look and feel their best, hit their talking points (by script or interview), and record an effective video.
Footage is recorded locally (for much higher quality video compared to streaming), and uploaded to our private cloud for editing.
3. Editing & Review
Our editors take the footage and edit it into a rough cut.
This includes content editing, color correction, audio optimization, and adding any design elements you have requested (logo sequences, a call-to-action, names and titles, etc.)
You'll be provided a private link to our video collaboration platform, where you can comment on the rough cut of your video, ask questions, and request modifications with pinpoint accuracy.
We'll lead you through two free rounds of edits for each video, to make sure that you get the videos that you need. Most videos are edited and delivered within 7 days.
What's next?
Schedule a consultation to discuss how you can use your videos to get in front of your audience and nurture them into customers by leveraging our video marketing experience.
Schedule a Consultation
Get in touch with a video expert to talk strategy, design a remote video production package that fits your needs and budget, and get a firm quote.
Remote Directed Video is a Perfect Fit for These Types of videos
RDV makes capturing customer testimonial safe and convenient – for both you and your customers.
RDV is perfect for those that want to secure a role as a thought leader in their industry.
RDV creates new opportunities to promote your event and add value for sponsors and exhibitors.
Thought Leadership
Social Media
Video Ads
Email & Sales Videos
Culture & Brand Videos
Product Reviews & Demos
Announcements
Event Promotion
Content Marketing
Frequently Asked Questions