Remote Directed Video Production:
How RDV Works
Learn how you can use Remote Directed Video (RDV) to take the cost and complexity out of the video production process, to create professional video content for your business – from strategy to editing.
The
Remote Directed Video (RDV)

Production Process
Film crews and video gear are costly and complicated, and doing it alone is frustrating and time-consuming. RDV cuts the complexities and physical barriers of video production, so you can create videos faster, easier and more affordably.
Remote Video Production Strategy
Work with our video marketing and remote production experts to develop a strategy for producing your videos, efficiently and affordably, that represent your business well and deliver results.
Following a formal methodology, we'll help you craft a strategy for producing effective video for your business.
Professional Remote Directed Video Capture
Subjects schedule a convenient time to record with our online scheduling tool, and are prepped by our producers in advance of their remote video shoots. Subjects then connect with a Remote Director via smartphone, tablet, or webcam and browser.
A Remote Director can adjust camera settings and assist remotely on the video shoot, so your videos look their best, and your subjects are confident to deliver the content you need (by script or interview).
Our editors can immediately pull down your remotely captured footage and edit it into finished videos that work for your business, as specified during the strategy phase of your project.
Using industry-leading video editing software and remote collaboration tools, we can help you streamline your production processes, and deliver your video content faster and more affordably.
For videos under three minutes long, you can save with our remote capture and editing bundle. For custom video editing projects, request an estimate.
See How Business are Using Remote Directed Video Production
Impexium Safely Expanded Their Library of Video Testimonials in 2020
ASAE Added Value for First Virtual Annual Meeting Event Partners
RDV is a Trusted Solution for These Brands




Our remote video production experts, technology and processes
make creating video content easy and efficient.
Remote Directed Video
Capture Technology
Professional Video and Audio
Utilize the full capabilities (up to 4K resolution) of subjects' cameras and take advantage of professional audio enhancements, for crystal clear video and audio.
Record with Expert Directors
Remote Directors can adjust camera settings and communicate with subjects to help them set up the shot and hit their talking points (by interview or script), so your videos look their best.
No Quality Lost to Streaming
Video is recorded locally and seamlessly uploaded after, maintaining the full native resolution of your footage, for much higher quality than streaming services are capable of.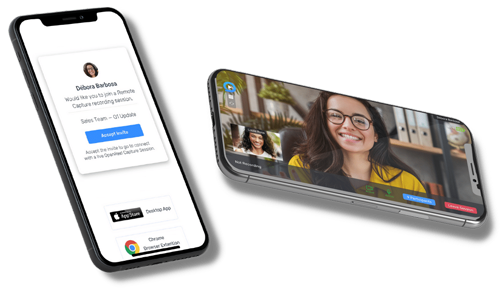 Learn more about our remote video production services:
Schedule a Consultation
Get in touch with a video expert to talk strategy, design a remote video production package that fits your needs and budget, and get a firm quote.
Remote Directed Video is a Perfect Fit for These Types of videos
RDV makes capturing customer testimonial safe and convenient – for both you and your customers.
RDV is perfect for those that want to secure a role as a thought leader in their industry.
RDV creates new opportunities to promote your event and add value for sponsors and exhibitors.
Thought Leadership
Social Media
Video Ads
Email & Sales Videos
Culture & Brand Videos
Product Reviews & Demos
Announcements
Event Promotion
Content Marketing
Frequently Asked Questions