Remote Directed Video Testimonial Production Service
Remote Directed Video makes it easy to create professional testimonial videos with customers around the world.
Our team of marketers, directors and editors, combined with our pro-grade remote video capture technology
make it safe, fast and cost-effective to produce video testimonials at scale.
"Our client testimonials and customer success stories have always been an important part of our marketing campaigns. When COVID hit […] the remote videos that Thoughtcast Media provides really allowed us to continue building content in a safe way."
RDV is a Trusted Solution for These Brands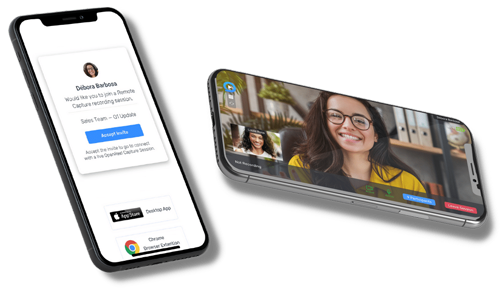 Recording Testimonials with RDV
1. Customers Schedule a Recording Session
Customers use our scheduling tool to choose a convenient shoot-time, and we prepare them in advance of their shoot.
2. Customers Connect with a Live Director
Customers connect their iPhone or webcam with a director that can adjust camera settings, interview them, and make sure they look and sound great.
3. Footage is Edited into a Final Video
The native resolution footage (up to 4K) is delivered to our editors. They edit and upload rough cuts in 7 days to our video collaboration platform, where you can request edits.
Remote testimonial recording is just part of our turnkey video solution
How is RDV Different from Other Ways of Producing Video Testimonals?
Video testimonials are one of the most effective marketing and sales assets you could ask for, but producing video testimonials has traditionally been expensive and complicated, plus disruptive to your customers. Remote Directed Video is a premium experience that is easy for customers and results in more effective testimonials.
Compared to Traditional Productions
Compared to Self-Guided Apps/Streaming
Safe Without Sacrifice
RDV is 100% contactless and totally safe, without having to sacrifice production or content quality.
Convenient for Customers
Customers schedule a video session at a convenient time. All they need is an iPhone/webcam and 45 min. with our director.
Convenient for You
RDV is a totally turnkey solution. Just send customers our way, provide feedback in the editing process, and we handle the rest.
Affordable and Flexible
All you need for testimonials is bundled into convenient fixed-price packages, or you can design a custom project.
Professional and Effective Video
Capture video in up to 4K with Live Directors to ensure you get testimonial videos that you and your customers will love!
Made To Your Specifications
From strategy to editing, our team will create testimonials that get business results, with 2 rounds of revisions included.
Trained Directors/Interviewers
Live Directors prep customers, tweak their cameras to ensure they sound and look great, and ask questions that result in compelling stories and soundbites.
Why Use Remote Directed Video (RDV) for Video Testimonial Production?
We've produced hundreds of video testimonials for companies and customers around the world, with Remote Directed Video. RDV is a totally turnkey video production solution, with additional services, like Customer Coordination, specifically designed for customer testimonials.
Live Directors to Help Your Customers Provide Testimonials with Confidence
Don't disrupt your customers' days by sending expensive film crews to their homes and offices, or leave them to their own devices and get mixed results (and annoyed customers) with a self-guided app.
With Remote Directed Video, your customer selects a time to connect with a Live Director who can ask the right questions, help your customer look and feel their best, and be out of their hair in under an hour. We'll even send basic video gear to customers, and coordinate with them on your behalf.
Professional Video with Just an iPhone or Webcam – at a Fraction of the Cost
Remote Directed Video utilizes cutting edge remote capture technology to record video on the subject's device, in its native resolution, resulting in video that rivals the quality of traditional on-location productions.
We combine this with professional direction and video editing into one convenient and cost-effective package.
Every Testimonial Video is Produced by Experienced Marketers
We've produced hundreds of testimonials videos, for businesses around the world, since we started in 2016.
We know what it takes to tell a compelling customer story that connects with buyers, and will work with our Live Directors and editors to create video testimonials that get results for your business.
Examples of Video Testimonials Produced with Remote Directed Video
Testimonial Video for Contractor Project Management Software
B2C Customer Testimonial Video for Men's Skin Care Product
B2B Testimonial Video for Association Management Software
Totally Turnkey Video Testimonial Production
Having produced hundreds of remotely-recorded testimonials, we know how to create professional and effective videos testimonials for your business, and have combined it all into one affordable, fixed-price package.
Strategy & Planning
Maximize the effectiveness of your video testimonials.
Remote Video Capture
Remote recording session with a Live Director.
Video Editing & Review
Professional editing and multiple rounds of review.
Customer Coordination
We'll handle all scheduling and coaching of your customers.
Video Gear Kits
We'll ship your customers a tripod and lavaliere microphone.
Release Processing
We'll work with your customers to secure talent releases.
Schedule a Consultation
Get in touch with a video expert to talk strategy, design an RDV testimonial package that fits your needs and budget, and get a firm quote.
How Remote Video Testimonials Work
Watch this video to learn how businesses use Remote Directed Video production to create professional and effective testimonial videos with customer around the world – quickly, conveniently and cost-effectively.