Remote Directed Video Testimonial Service
Convenient and cost-effective remote video testimonial production.
With remote Live Directors to help your customers tell their success stories, and expert marketers and video editors to quickly turn them into audience-ready videos – Remote Directed Video (RDV) makes creating professional-grade video testimonials easier than ever before.
Examples of Video Testimonials Produced with Remote Directed Video
Testimonial Video for Contractor Project Management Software
B2C Customer Testimonial Video for Men's Skin Care Product
B2B Testimonial Video for Association Management Software
With a Live Director, Customers Can Conveniently Provide Video Testimonials with Confidence
Don't disrupt your customer's day with a film crew or leave them to their own devices with some app.
With Remote Directed Video, your customer selects a time to connect with a Live Director who can ask the right questions, help your customer look and feel their best, and be out of their hair within an hour.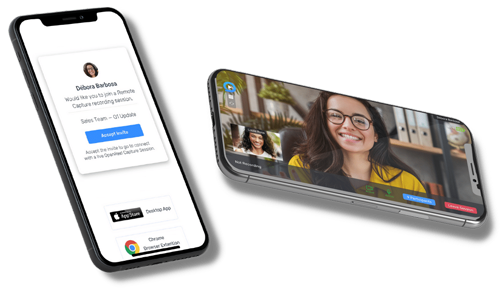 Professional Video – in up to 4K – at a Fraction of the Cost
Remote Directed Video utilizes cutting edge remote capture technology to record video on the subject's device, in its native resolution, resulting in video that rivals the quality of traditional on-location productions.
We combine this with professional direction and video editing into one convenient and cost-effective package.
Produced by Experienced Marketers
We've produced hundreds of testimonials videos, for businesses around the world, since we started in 2016.
We know what it takes to tell a compelling customer story that connects with buyers, and will work with our Live Directors and editors to create video testimonials that get results for your business.
Remote Video Testimonial Case Study
"There's nothing better than that peer-to-peer endorsement from one of our clients to one of our prospects."
Why Use Remote Directed Video for Customer Testimonial Videos?
Businesses choose Remote Directed Video for their customer testimonial videos because they can rely on Thoughtcast Media to quickly and cost-effectively produce audience-ready videos that connect with buyers. Our team of marketers, Live Directors and editors will work with you and your customers to remotely capture compelling customer stories, and produce video testimonials that get results for your business.
Convenient for Customers
RDV makes it easy for your customers to schedule a recording session on their own time. No film crews need to show up at your customer's location to disrupt their day. All they need is an iPhone or webcam, and 30 to 60 minutes.
Convenient for You
RDV is a totally turnkey solution. We'll help you decide on a look and feel, and the kinds of stories you'd like to tell. Just send customers our way, provide feedback in the editing process, and we'll handle the rest.
Affordable and Flexible
RDV is available in affordable fixed-price packages, with options to customize your project exactly to your needs and budget. Save by ordering more videos at once, and have us record them over the course of 12 months.
Exceptional No-Stream Video
Video is uploaded in its original resolution (up to 4K). A Live Director will also remotely frame the shot and adjust the customer's camera settings to ensure professional, visually-appealing video.
Professional Direction
A Live Director will prepare your customer in advance of their RDV session, interview the customer to get the footage needed to create an effective video, and make sure your customer feels and looks their very best.
Made To Your Specifications
We'll help you define a vision for your videos and the customer stories you'll tell. We'll then work to turn that vision into a reality, with 3 included rounds of revisions, through our video collaboration platform, to get it just right.
How Remote Video Testimonials Work
Watch this video to learn how businesses use Remote Directed Video production to create professional and effective testimonial videos with customer around the world – quickly, conveniently and cost-effectively →
Totally Turnkey Video Testimonial Production
Having produced hundreds of remotely-recorded testimonials, we know how to create professional and effective videos testimonials for your business, and have combined it all into one affordable, fixed-price package.
Strategy & Planning
Maximize the effectiveness of your video testimonials.
Remote Video Capture
Remote recording session with a Live Director.
Video Editing & Review
Professional editing and multiple rounds of review.
Customer Coordination
We'll handle all scheduling and coaching of your customers.
Video Gear Kits
We'll ship your customers a tripod and lavaliere microphone.
Release Processing
We'll work with your customers to secure talent releases.
Schedule a Consultation
Get in touch with a video expert to talk strategy, design an RDV testimonial package that fits your needs and budget, and get a firm quote.
RDV is a Trusted Solution for These Brands