Remote Event Video Production Services
Remote event video production for
exhibitors, sponsors and event promotion.
Remote Directed Video makes it easy to produce event videos that drive event attendance, increase booth traffic, entertain attendees, add value for sponsors and more – with subjects and collaborators around the world.
Our team of marketers, directors and editors, combined with our pro-grade remote video capture technology
make it fast, easy and cost-effective to produce videos for your next event.
Producing Event Videos with
Remote Directed Video (RDV) Production
1. Schedule a Recording Session
The subject of the video picks a convenient time for their RDV session using our online scheduling tool.
2. Connect with a Live Director
Connect with a director via mobile device or webcam, who helps your subject look and feel their best.
3. Our Team Edits Your Videos
A rough cut of your video is uploaded to our video collaboration platform within 5 business days, where you can request edits.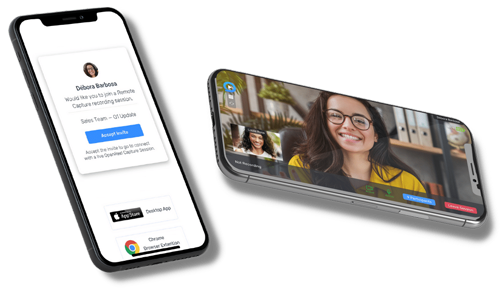 "Our partners were very pleased with the videos. Thoughtcast Media was super easy to work with, and the whole process had little impact on staff resources. We definitely plan to work with them again."
Dan Melesurgo, VP of Strategic Partnerships, ASAE
Remote Directed Video takes the cost and complexity out of event video production.
Learn about how we produce professional and effective event videos – quickly and cost-effectively.
How You can Use Remote Directed Video Production For Your Next Event
Organizers and exhibitors can use RDV to get attendees excited and direct foot traffic before an event.
Event Sponsor & Exhibitor Videos
Organizers can use RDV to add value for sponsors, and exhibitors can get more people to their booth.
Social Media Event Videos
Organizers can use RDV promote their event on social media, and exhibitors can announce their attendance.
Schedule a Consultation
Get in touch with a video expert to talk strategy, design an RDV production package that fits your needs and budget, and get a firm quote.
RDV is a Trusted Solution for These Brands




The transition to virtual conferences and events offers many challenges, not the least of which is the threat it poses to traditional event-driven revenue streams.
The American Society for Association Executives (ASAE) engaged Thoughtcast Media to record and edit a series of 16 remote videos for their Strategic Partners, in support of their annual event.
We Make It Easy to Buy Event Video Production Services
The cost of video production continues to drop, making video marketing accessible to more businesses.
However, working with remote teams and outside subjects makes event video production expensive, with hidden production costs and delays. Fixed-priced Remote Directed Video packages for event videos are all-inclusive, with no hidden costs.
We've refined the video production process to make creating event videos as fast and hassle-free as possible, without having to sacrifice production quality.