Pro-grade video production for your business
without all the overhead.
Remote Directed Video makes creating videos, with subjects and collaborators across town and around the world, convenient and cost-effective.
Enable Your Business to Create More Video Content
Faster, Easier and More Affordably
Record a video in as little as 30 minutes and receive an edited video in as little 5 business days.
A dedicated producer will work with your team and subjects to shorten the production cycle.
Record with anyone from anywhere, with directors to put your subjects at ease and get you the best videos.
Tell us what videos you need, your subjects schedule a convenient shoot-time, and we handle the rest.
Create 5+ professional-grade videos for the typical cost of one traditional on-location production.
All-inclusive remote video production packages streamline the entire video production process.
Introducing
Remote Directed Video Production
Eliminate the physical barriers, costs and complexities of producing professional business videos.
The old way of producing videos is expensive and complicated.
The truth is, with the right technology, processes, and expertise in place, creating videos that move the needle for your businesses shouldn't cost you an arm and a leg, and weeks of your time.
Remote Directed Video (RDV) combines professional-grade remote recording technology with the careful attention of marketers, directors, and editors to make creating videos for your business as simple as any other type of content.
Stop eating into your ROI with the old way of doing video. With RDV, you can cut the time and cost of producing videos, without cutting corners.
How It Works
Recording Videos with RDV
1. Schedule a Recording Session
Set a convenient time to record your video and we'll coordinate the rest.
2. Connect with a Live Director
Subjects connect with a director who helps them through the process via smartphone, tablet or webcam.
3. Receive an Edited Video
View a rough cut of your video in 5 business days or less, with additional rounds of edits included.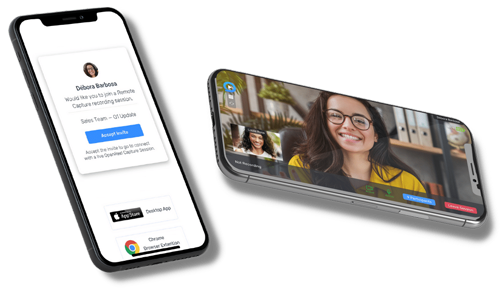 Remote Directed Video Makes it Easy to Produce Video Content Like This and More
Remote Directed Video is a cost-effective and predictable way to produce a variety of marketing, sales and other video content for your business.
RDV makes capturing customer testimonial safe and convenient – for both you and your customers.
RDV is a fast, easy and scalable way to produce the video content you need to fuel your marketing campaigns.
RDV creates new opportunities to promote your event and add value for sponsors and exhibitors.
Other Videos You Can Produce with Remote Directed Video
Thought Leadership
Social Media
Video Ads
Email & Sales Videos
Culture & Brand Videos
Product Reviews & Demos
Announcements
Event Promotion
Content Marketing
Getting Results with Remote Directed Video
Impexium Safely Expanded Their Library of Video Testimonials in 2020
ASAE Added Value for First Virtual Annual Meeting Event Partners
RDV is a Trusted Solution for These Brands




Schedule a Consultation
Get in touch with a video expert to talk strategy, design an remote video production package that fits your needs and budget, and get a firm quote.
About Us
Thoughtcast Media is based in Gaithersburg, Maryland, just outside of Washington, D.C., but with the ability to remotely capture video in 125 countries, our reach is international.
Thoughtcast Media was founded to provide businesses with an easy to way to understand, source, and create video content. We bring decades of marketing experience to every video we help you produce, so you can maximize the return on your video investment. Learn more about us.