Remote Social Media Video Production Services
Professional social media videos
with help from remote directors and video experts.
Increase your social media video content production, improve consistency, and take your production quality to the next level, to enhance engagement and get marketing results for your business on social media – with Remote Directed Video.
Our team of marketers, directors and editors, combined with our pro-grade remote video capture technology
make it quick, easy and cost-effective to produce high-impact social media videos.
How RDV for Social Media Works
1. Schedule a Recording Session
The subject of the social media video picks a convenient time for their recording session using our convenient scheduling tool.
2. Connect with a Live Director
Connect remotely with a director via mobile device or webcam, who helps your subject look and feel their best when recording the social video.
3. Your Social Video is Edited
Your social media content is edited and uploaded to our video collaboration platform within 5 business days, where you can request edits.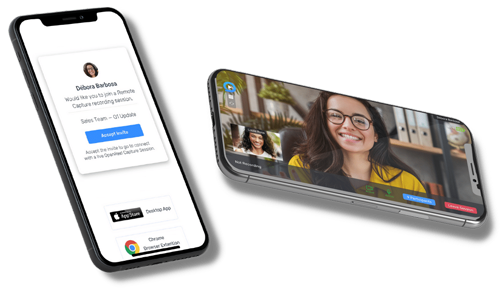 "The process Thoughtcast Media follows is exceptional! From conception to execution, it all makes sense and results in marketing videos that really work for our firm."
Carl Sumter, Managing Partner, Savor Strategies
Remote Directed Video takes the cost and complexity out of social media video production.
Learn how we produce professional and effective social media content for your business – conveniently and cost-effectively.
Create These Social Media Videos and more with Remote DIrected Video Production
Video Ads
for
Social Media
Give your social media ads and retargeting ads a personal touch – with video.
Customer Success Story Videos
Make your customers your #1 advocates with testimonials for social media.
Thought Leadership Videos
Share your expertise and become an influencer in your industry on social media.
Drive attendance, excitement and foot traffic for your next event.
Share your mission and values with prospects and customers on social.
Teach your social audience something new and valuable with video.
Speak with a video expert
Get in touch with a video expert to discuss your video project, and design a remote video production package that fits your needs and budget.
RDV is a Trusted Solution for These Brands




Remote Social Media Video Production Made Convenient and Cost-Effective
Social Video Production Services That Get Marketing Results
We Make It Easy to Buy Social Video Production Services
While video marketing becomes more accessible to more businesses due to dropping costs and more authentic videos on social, the complexities of working with remote teams and outside subjects can make producing social media videos expensive, with hidden production costs and delays.
Fixed-priced Remote Directed Video packages are all-inclusive, with no hidden costs. Get the exact number of videos you ordered, at the price you were quoted, so you can get the video content you need, on time and on budget.
We've streamlined the social video production process to make it quick, convenient and cost-effective – without sacrificing production quality or the videos' ability to get results on social media.